Healthier chicken parmigiana with sweet potato mash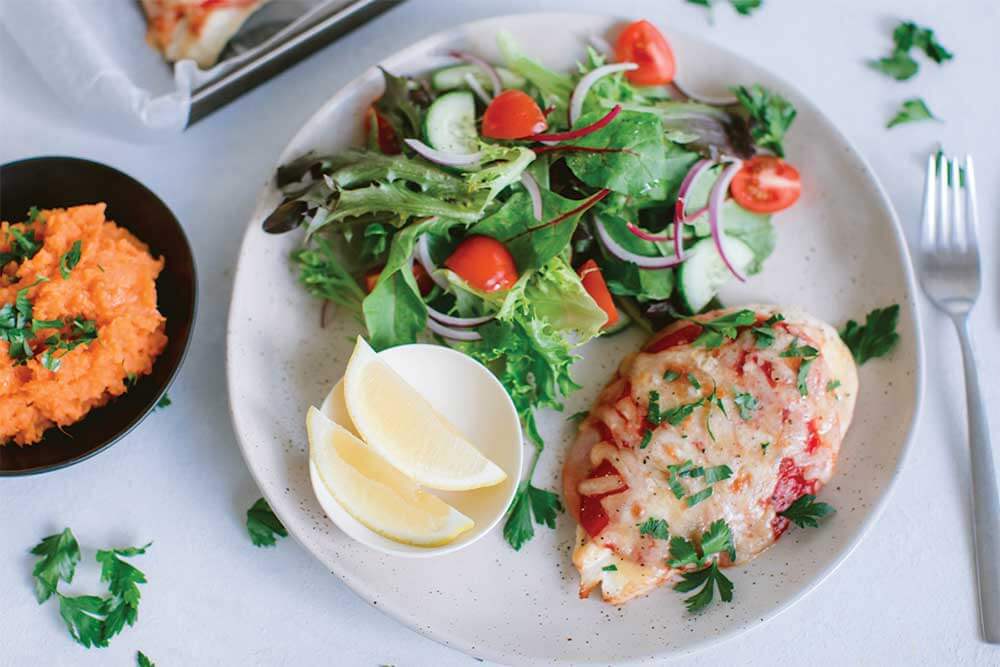 You can happily indulge in this nutritious chicken parmy recipe that is packed with flavour - cheers!
Serves 2
Ingredients
1 large (around 250g) sweet potato
1 x 250g chicken breast
4 small slices (approx. 50g) lean ham
2 heaped tbsp tomato passata
50g grated low fat tasty, cheddar or mozzarella cheese
3 tsp extra virgin olive oil
Sea salt
Freshly ground pepper
Lemon wedges, to serve
To serve
Fresh side salad or steamed green vegetables of your choice
Method
Peel the sweet potato and cut it up into roughly 2cm pieces. Steam or boil the sweet potato until a knife easily slices through.
While the sweet potato is cooking, prepare the chicken. Carefully placing your hand on top of the chicken breast and slice it lengthways horizontally through the centre. (Take extra care with your hands!). You will then have two thin pieces of chicken.
Heat a fry pan to medium-high heat and add 2 tsp olive oil. Cook the chicken pieces for a couple of minutes on each side until golden and cooked through. This should be quite quick as the chicken pieces are thin. Remove from the pan and set aside
Heat your grill to medium-high heat. Place the chicken pieces onto a grill or oven tray lined with foil. Top each chicken piece with half the ham, tomato passata and grated cheese. Place under the grill until the cheese is bubbling and golden, this should take just a couple of minutes.
To make the sweet potato mash, place cooked, drained sweet potato into a bowl.  Add 1 tsp olive oil and season with salt and pepper. Mash to your liking (keep it chunky or mash for longer for a smoother consistency).
Serve the chicken parmigiana and sweet potato mash between two plates. This would be lovely with a fresh side salad or some steamed green vegetables.
Nutrition Information (per serve)
Energy

2,278Kj

545Kcal

Protein

49.9g

Total Fat

-        Saturated

-        Unsaturated

24.4g

11.7g

5.8g

Carbohydrates

-        Sugars

30.4g

13.1g

Fibre

3.8g

Sodium

393.8mg