Westfund Regional Health Gap Report 2023
The Westfund Regional Health Gap Report provides compelling evidence for the need for a fundamental shift to proactive, preventive health care and new forms of care delivery in Australia's regions.
The report, completed in partnership with Insight Actuaries, examined the health-risk distribution, access to care and costs of treatment across eight key locations of our membership. Over 66,000 unique patients were analysed over a seven-year period and were supplemented with surveys and in-depth interviews with members and local providers. 
While the gap for regional Australia is significant, it is not insurmountable. Understanding the needs and unique challenges of the regions is just the first step in creating positive change.
Key findings:
We found significant variations in the burden of disease between different geographical locations. For example, Westfund members in Townsville in North Queensland had approximately 50 per cent more high-risk individuals per 1000 healthy members compared to Westfund members in Mudgee, Orange and Bathurst.
While the fallout of COVID-19 is still unfolding, it is clear there will be an enduring impact on the burden of disease. Spending on mental health conditions decreased overall during COVID-19 however the level of severity of the patients treated increased, suggesting that many may have gone untreated.
Chronic conditions compound risk and treatment costs, contributing to the escalation of healthcare needs. People who live in the regions experience higher risk factors and more chronic conditions. Our research indicates they may also not have access to the health services they need to manage their conditions.
Obesity is becoming more prevalent, especially in younger populations. Westfund members with high BMI (>30) incur additional costs of up to 40 per cent more than the average member at each hospital admission, regardless of the treatment modality. This trend is only expected to increase with the rise in prevalence and cost affecting us all through Australia's taxation system and private health insurance.
The access gap in regional areas means there are delays in regional populations receiving the care they need. We found significant differences in disease prevalence for Westfund members and healthcare access across regions, with glaring gaps in some areas. 49% of Westfund members surveyed thought the wait time to see their GP was unreasonable. 95% of Westfund staff in regional areas said there was a gap between supply and demand for mental health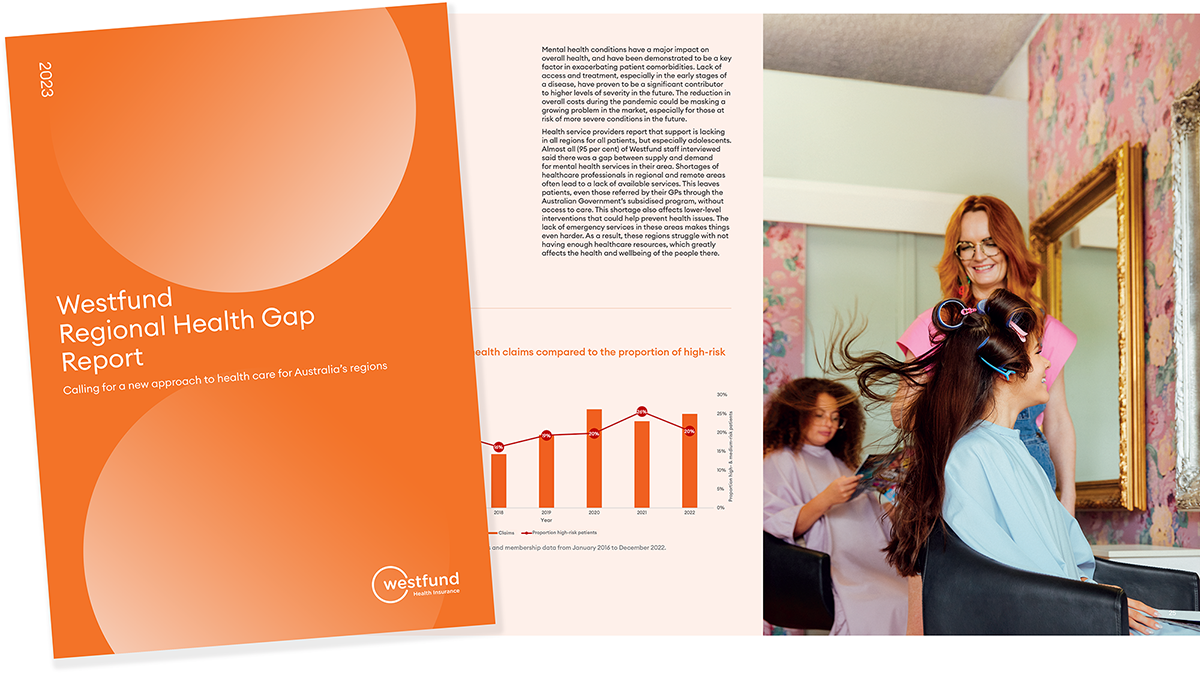 Get in touch
For more information on the report or to explore opportunities to help solve the regional health gap, contact [email protected]