Emerald Rotary | Serving the Community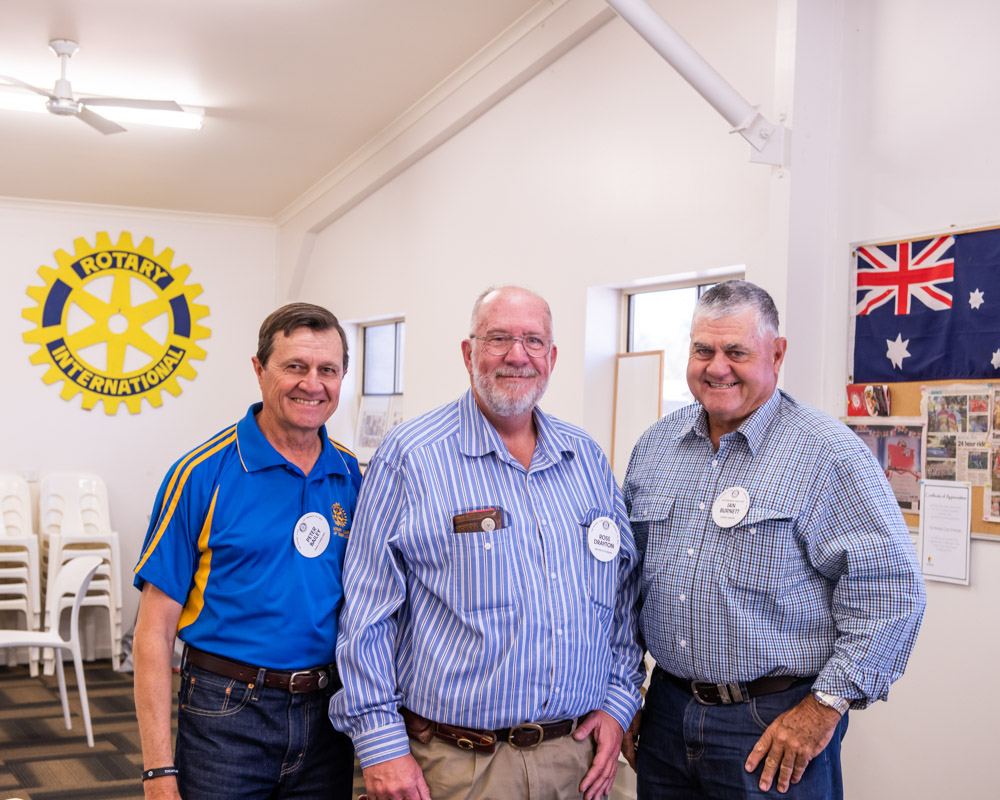 Service clubs of a huge variety of shapes and sizes have long been a part of Australia's social fabric. From the traditions of fellowship, charity and civic responsibility have emerged clubs and organisations across the country. Freemasons, Lions, and perhaps one of the most well known of all – Rotary International.
Rotary Australia, the localised arm of the global organisation, has flourished with over 1100 clubs across the country. Rotarians work hard to ensure that their efforts stick to the simple motto of 'service before self'.
Nowhere does this motto ring more true than the Rotary Club of Emerald.
Drawing strength from their long history in Emerald, Rotary continue to support and give back to the community. Boasting around 26 members on paper, Rotary have become a real cornerstone of the community thanks to their tireless efforts.
It isn't all sausage sizzles. Rotary is heavily involved in a number of initiatives to ensure positive outcomes for at-risk youth. They support individuals from a range of socio-economic backgrounds and maintaining their flagship events throughout the year.
Rotary is instantly recognised worldwide and clubs around the world contribute to many large, global projects.
They remain involved in and contribute to Rotary's international efforts. However, the Emerald group aims to meet the needs of their local community first and foremost.
"Our focus mainly is on our local folk. That's where we live and that's who we really care about," says President Ross Drayton.
"We look internally as opposed to Rotary International who have district governors and they have the infrastructure to look globally. But us little guys in Emerald just do our little part," he says.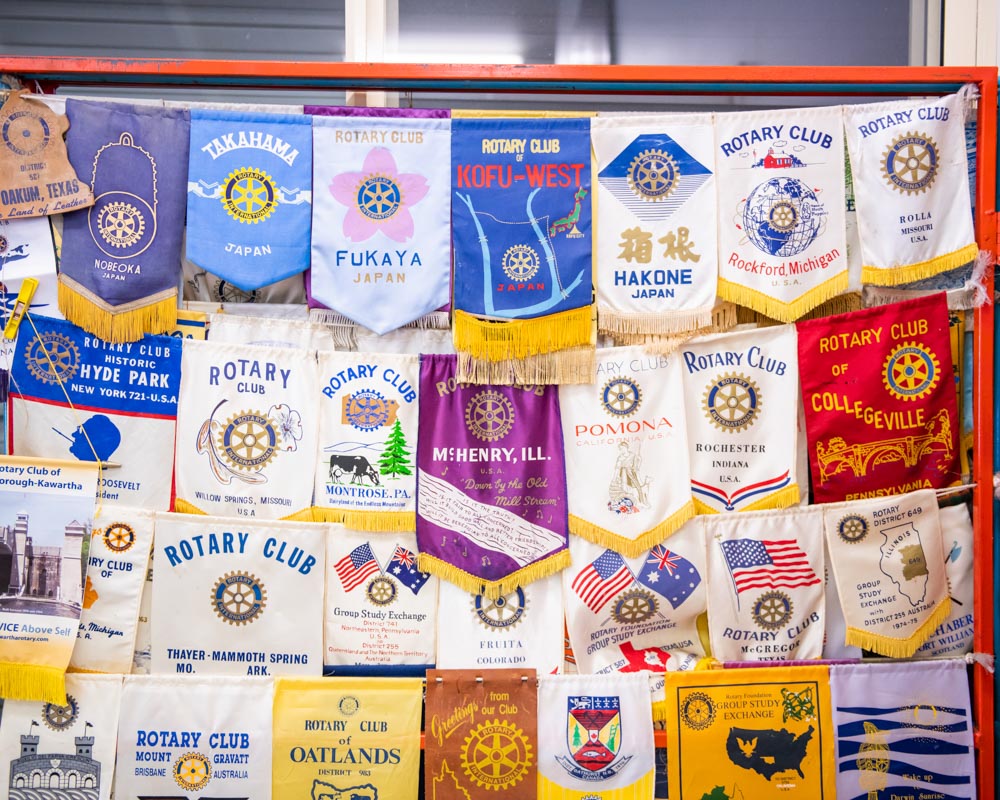 Emerald Rotary's 'little part' has seen them fundraise tirelessly. They donate countless volunteer hours and offer support to their community that any town would be grateful for.
Ross, along with fellow Rotarians Ian Burnett and Peter Bailey, is keen to talk about the work of Rotary. He also explains why he became involved with the group.
"I wouldn't swap it for anything, I think it's really just a very important part of my life now.
All three men have been members of Emerald Rotary for years.
Ian is the longest-serving of the three, having been involved with the club for close to twenty years.
Ian is a former president of AgForce, the peak representative organisation of Queensland's rural producers. He has been heavily involved in agricultural representation.
"I've seen the development of this club," he says.
"When I first joined, we used to meet at the Golf Club."
Rotary now meet in their clubhouse, which can be found in Emerald's Rotary Park.
"I got interested in the community projects and devoted what time I could to Rotary. I was club president for a term, and then remained involved on the board at different times."
"It's been a good organisation," says Ian.
Ross has been a member for a little less time. But he has quickly come to appreciate the role Rotary plays in the wider community.
"I'm only very new into the club –  I've only been here three to four years," he says.
"Somehow I've been appointed president this year. There's an old adage I learnt as a child which is 'always be seated when the music stops'.
"I obviously didn't hear the music," laughs Ross.
"I'm enjoying it, I have a great team. I'm a business owner in town, I've got time now to do this. I've got this and a few other things I'm involved in. But I enjoy Rotary probably the most out of all of them.
"I'm the world's worst cook so they always put me on a till," he says.
"He's a good money man," Peter adds.
Like Ross, Peter has been involved with the club for around three to four years.
"But this is my second time living in Emerald," says Peter.
"The first time was in '68 to '86  – so shows my age!
"I was only a little fellow and then I moved away and came back in 2014.
Peter draws attention to the board on the wall of Rotary's clubhouse listing previous club presidents.
"If you look up the top there you'll see the list of presidents. Most of those men were really big in my life when I was growing up as a kid here. That's why when I was approached by Leon Clothier –  I think it was 2014. He said to me 'do you want to come along to Rotary?'. And I thought 'well I've never been a member of a service club'. I did fourteen years with the State Emergency Service. But then I thought 'this is something to get involved in'," he says.
The ties that bind both past and present members of Rotary and the wider Emerald community soon become evident. Ian, Peter and Ross discuss why they decided to join the club and think it's important to volunteer.
These ties go all the way back to the inaugural president.
"He was my dentist," says Ian.
"He was the dentist based in Emerald. I grew up north of Clermont. He used to do a circuit and come to Clermont and I went to him.
"I probably had baby teeth in those days," he laughs.
"And a lot of those men who were members or presidents of the golf club. They were on boards and stuff as well too," says Peter.
"In smaller communities, a lot of people are involved in multiple organisations. To the point, in fact, where you could really just have a day of meetings," adds Ross.
Emerald Rotary have a number of dedicated members who can always be counted on to assist when needed. However, service clubs have, as a general rule, struggled to attract and maintain members in recent years.
"As a service club, it's harder to get members because people's time. Although we're supposed to have more time, we have less. So it's very hard to get people to volunteer today," says Ross.
Part of this problem is the fact that younger people are not as drawn to joining clubs like Rotary.
Ross is, however, unconcerned by this trend.
"I've been too many conferences for Rotary and they get very worried about this. They say we're not getting young people through. My philosophy is this: I don't believe Rotary will ever attract young people in the numbers that they're looking to.
"I think there's a time in your life where you think O.K.  My kids are off my hands, now it's probably time I can give a little bit back to my community. I think that's your target age in my opinion. that sector of people who think 'I have got some spare time. I don't have to be at footy, I don't have to be at dancing or wherever I need to be.
It's an opinion Ian agrees with.
"I think… with young people coming in, when you're starting off you've got a young family – that's your main focus. You're trying to get those kids to a stage where they can look after themselves. You really haven't got enough time for volunteering and community work in most cases. I mean some of them do, but with young people these days that's their focus," says Ian.
"Let's be honest and truthful," adds Ross, "you can't use a barbeque until you're over 50".
One of the things about Emerald Rotary that is harder to articulate is the fellowship between the group. They share the easy camaraderie of people who are completely comfortable in the company they're in. And the group us much stronger for it. Always quick with laugh, it's easy to see why people join the group and why, more importantly, they stick around.
"I think it's a great set of folk. I've never seen a cross word, I've never seen anything in anger, it's just good fellowship that's all," explains Ross.
"And I've never seen a club where if you ask for a volunteer, you get five or ten. It's very strong in that regard, they'll always be there representing the club," he says.
Things show no sign of slowing down for the hard-working Emerald Rotarians. There are big plans underway to build an all-abilities playground in Rotary Park. The equipment will be train-themed, in keeping with one of Emerald Rotary's most well known icons – their miniature train. The train is used to raise funds for the group and can generate a huge crowd.
"The train is really good old school fun," says Ross.
As well as running the train the first Sunday of every month, Rotary have other regular events on their calendar. These include a golf day, Carols by Candlelight, expos. There's also a newer event started in 2018 that involves groups of rubber ducks floating down the Nogoa River.
The group also have a sponsor child in Africa, and support a local initiative called 'On Track'. This initiative aims to create an environment for disengaged students who have difficulty adhering to the traditional school system. The aim is to ensure that they can get their education and feel like they're part of the community. Rotary are about creating a sense of community. They believe this starts in the young people of the town and the sentiment will carry on throughout their life.
Look at all these events, causes and individuals that may need assistance without any advance notice. That's when you begin to understand just how much support Rotary offers their community.
With all three men clearly passionate about their town and the role that Rotary plays within it,
the simple question must be asked – why volunteer?
"I think for me it's… this community made me who I am today. And I want to give back to them and that's why I volunteer. If I stop working you'll probably find me at the neighbourhood centre or something like that," says Peter.
"Community is very important to me."
"It's a great feeling when someone comes in and someone's doing it tough. We can help by giving them a couple of dollars to help them out. That makes it all worthwhile, it really makes you feel good," he says.
"I think it's something that  just sneaks up on you, you know? You reach the stage where you'd like to put something back into the community. You get as much out of it as you put in to it," says Ian.
"The friendships, the fellowships, the connections; we all value that, so it's a bonus really. "We're able to help the community, help overseas groups… so we're spread fairly widely and it's great really," he says.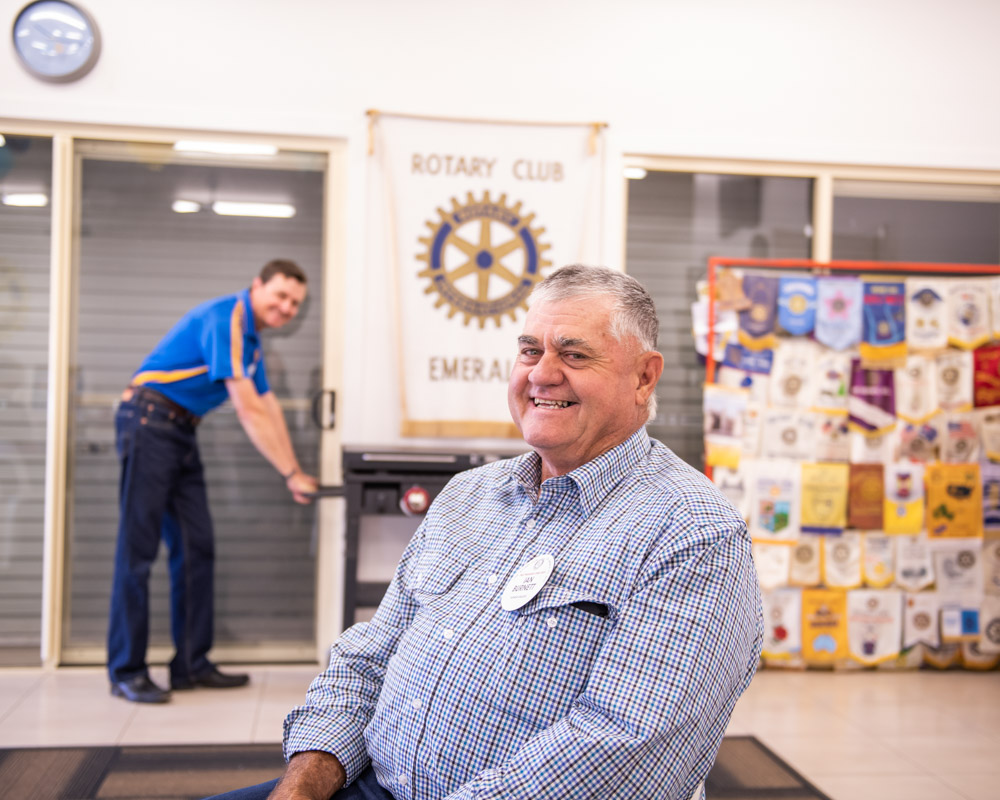 Ross shares the sentiments of his fellow Rotarians.
"You tend to find if you're a volunteer, you're a volunteer."
"Growing up, looking around, my father was a Rotarian going back many many years.
"You see Rotarians and you see Lions, all these things out there in the community doing things. You get the tap on the shoulder and someone says 'how would you like to come to a Rotary meeting?' And you think 'oh yeah, that would be great'," he says.
"Then you go and find out what it's all about. Then I think you start to realise 'gee whiz – this is really great, this is enjoyable'.
"I think once you get that in your DNA it's really hard to get rid of. I think that volunteering, you can't get rid of," he says.