NRL Cowboys House receives a life saving piece of equipment as part of the Here for Hearts Program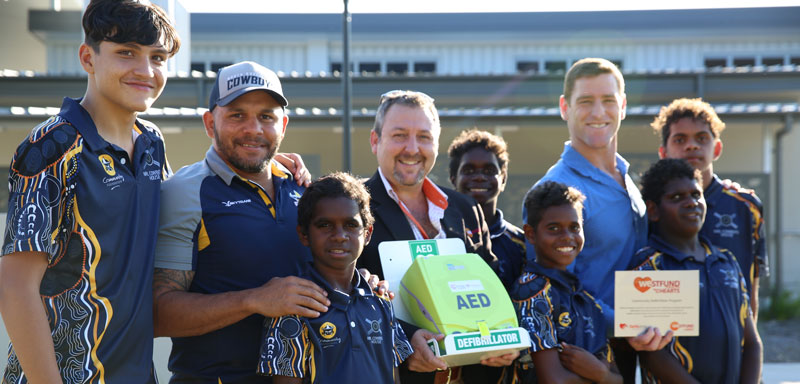 Students at the new NRL Cowboys House will benefit from the installation of an Automated External Defibrillator (AED) at the facility.
The AED has been donated as part of our Here for Hearts Programme and was donated to the house on Thursday April 20.
Here for Hearts is a collaboration with the Defibshop and aims to save lives by increasing awareness of sudden Cardiac Arrest and the importance of defibrillators in the community
Officially handing over the AED was our Senior Regional Manager – North Queensland Bob Whittaker.
Our ongoing partnership with the North Queensland Cowboys has continued to result in positive outcomes for both organisations.
"Westfund Health Insurance came on board as the North Queensland Cowboys' official health fund, and a valued community partner, in 2016," said Mr Whittaker.
"Since that time, the relationship has flourished and has grown to include a number of health-focussed community initiatives, for example Vision Screening Programmes in schools.
"With this in mind, when Westfund became aware of NRL Cowboys House we were quick to acknowledge the importance of the facility and we were eager to assist in any way we could.
"We are proud of our association with the House and the North Queensland Cowboys and share their community-first attitude," said Mr Whittaker.
NRL Cowboys House will assist students in completing secondary schooling in Townsville, while nurturing their additional interests, whether that be in the arts, academic or sports.
The House is a joint initiative between the North Queensland Toyota Cowboys, the National Rugby League and Queensland and Australian Governments.