Your Westfund membership card, now on mobile
Tap and claim your way with your Westfund membership card now available on Apple and Android.
Contactless claiming that's fast and easy - and always with you.
With Apple Wallet, your card is now on the device you have with you everyday, private and secure. Your details are encrypted, and Apple doesn't track when you add or use the pass in Wallet. Plus, you can use Apple Pay to make any gap payments, a simple and secure way to pay.
You can also access your Westfund membership card on your Android device.
Adding your membership card to Apple Wallet

Open or get the Westfund app on iPhone.

Tap 'Add to Apple Wallet' and follow the prompts.
For Apple Watch: Once the card has been added to iPhone, it will automatically sync to the Apple Watch.
Claim in a tap with your Apple device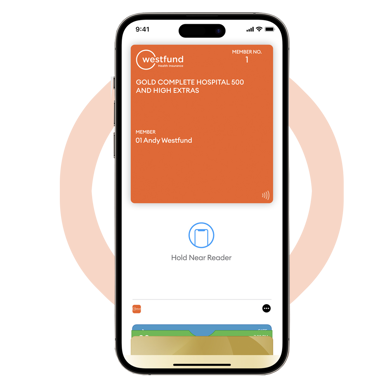 Step one
On iPhone with Face ID and Apple Watch, double click the Side Button.
On iPhone with Touch ID, double click the Home Button from the Lock Screen.
Step two
Choose your Westfund card in Wallet.
Step three
Hold your device near the reader.
If you have multiple members on your card, you can get the person identification number by tapping the ellipsis (…) and then selecting 'Pass Details' when viewing the pass, or view from the Westfund app.
Claim in a tap with your Android device
Step one
Open the Westfund App and go to My Westfund card.
Make sure NFC is enabled - this is a near-field communication chip that transmits information from your device wirelessly, so you can claim from your card.
Step two
Hold your device close to the HICAPS terminal.
Step three
You'll get a confirmation when your claim is complete!
Frequently asked questions
Where can I use my digital membership card?

You can use your digital card to make any extras claim at any HICAPS reader. If you're unsure, ask the provider.
Is it secure to have my Westfund membership card in Apple Wallet?

Yes. Your card is encrypted on your device with your passcode, and your membership number is encrypted when it is securely transmitted from your device to the reader. Apple doesn't track when you add your card to Wallet. Need more information? Visit https://support.apple.com/en-au/HT203027.
How do I find my membership number?

Your membership number can be accessed by tapping the More (ellipsis) button when viewing your card, and then selecting "Pass Details" from the menu, or from the Westfund app. On Apple Watch tap the Information button when viewing your card to view Person Identification numbers and your membership number.
What should I do if I lose my device?
How can I pay for the gap payment using Apple Pay?

Add a payment card from your bank or card company to Apple Pay using the Wallet app. You can then make any gap payments using Apple Pay. Want to learn more? Visit https://support.apple.com/en-au/HT201239.

 
What if I'm experiencing technical difficulties?
Works with iPhone 6 running iOS 11 or later, and Apple Watch, with compatible reader.