It ain't weak to speak | LIVIN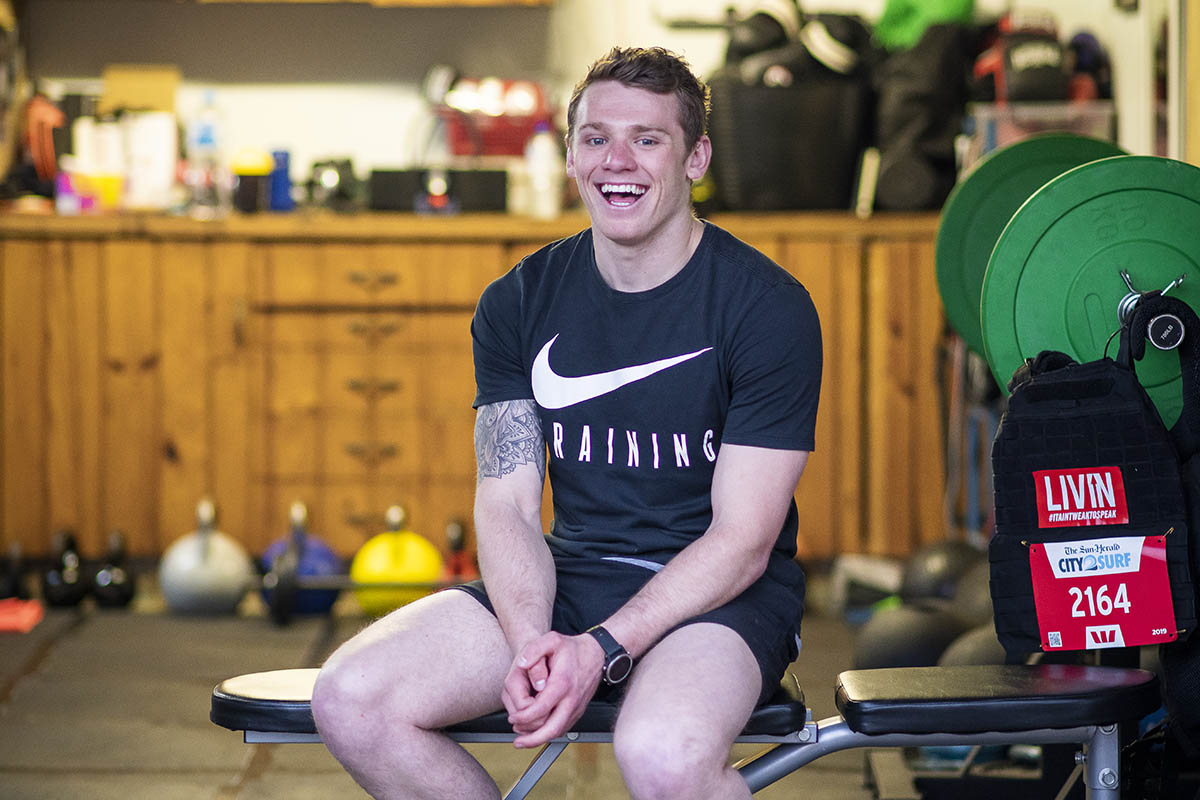 Using five simple words, LIVIN is breaking down the stigma of mental health, and inspiring real action among their ever-growing community along the way. LIVIN's co-founder Casey Lyons and one of its supporters, Curtis Young, share with us the ways in which LIVIN is changing conversation around mental health in Australia.
As a co-founder of LIVIN', a Burleigh-based organisation dedicated to breaking down the stigma of mental health, Casey Lyons is familiar with the power of the lived experience.
"We started in 2013 after we lost a great man, my best mate, Dwayne Lally, to suicide," explains Casey. "Dwayne lived with depression and bipolar for a number of years and the stigma kept him quiet and stopped him from accessing support. I met Dwayne the first day of Grade 1; I knew him like a brother inside and out.
"Mental illness certainly came on during his late teens to early 20s. He always felt ostracised, he felt different, he felt he was weird and shouldn't feel this way. After his tragic passing, we were confronted by the statistics around mental health and suicide in this country. They are quite alarming."
They are indeed alarming.
Statistics reveal that Australia's suicide rate is above the World Health Organization's global average.
Data from the Australian Bureau of Statistics shows that 3048 Australians died by suicide in 2018; males accounted for 76.2 per cent of deaths by suicide.
According to this data, suicide was the leading cause of death among people aged 15–44. Something needs to be done, and breaking down the stigma of mental illness is the place to start.
"Dwayne came from a beautiful family. He was good looking, funny, always smiling – the life of the party as they say. He was also quite tough; he was an Australian champion boxer at one stage," says Casey.
"But the stigma kept him quiet and stopped him from accessing the support (he needed) because he just didn't want to feel different; he didn't want to be a burden to people. After his passing, we were hearing this was too common a tale."
"We just knew we had to do something and that's why we (Casey and co-founder Sam Webb) started LIVIN."
From the tragedy emerged hope, and a movement that has shaken up the way we as a nation approach and discuss mental illness.
"Our goal is to, through education, break down the stigma and encourage people to access support, because there is plenty of support in this country."



Casey Lyons, LIVIN co-founder
LIVIN takes a proactive approach to support this, and to help people in 'LIVIN their life at the top'. It can be easy to hide behind mission statements, statistics and purely awareness-based activities, but that is not the LIVIN approach. The LIVIN approach involves hours of hard work developing and delivering on their three pillars.
"Awareness is a word we have tossed around for a long time, but we are more about action and education, because that is what we are trying to do through our awareness. Awareness is probably just a by-product of the action and education. We're actually out there doing something."
LIVIN's first pillar is 'LIVIN Well' – their education pillar.
"We go around the country into schools, businesses, sporting clubs, community groups, mining groups, corporates – you name it, we've been there."
In a 45-minute presentation, LIVIN talks about the mental health warning signs and symptoms, where to get help and how to help not only yourself, but those around you. The sessions use the most up-to-date research; however, Casey is a firm believer in the importance of sharing lived experience.
While statistics can alarm people, they do not become relatable until they meet personal experience."We are a little bit more relatable and it (anecdotal evidence) seems to have a lot more cut-through," says Casey.
Another of LIVIN's pillars, and one where it has had great success, is merchandise. "Our merchandise is a great conversation starter; people are walking, talking billboards," explains Casey. "It has created this unique sort of community where people will see each other wearing a LIVIN shirt and they give each other the head nod; they understand. "People who don't know LIVIN, they'll ask 'what is that?'"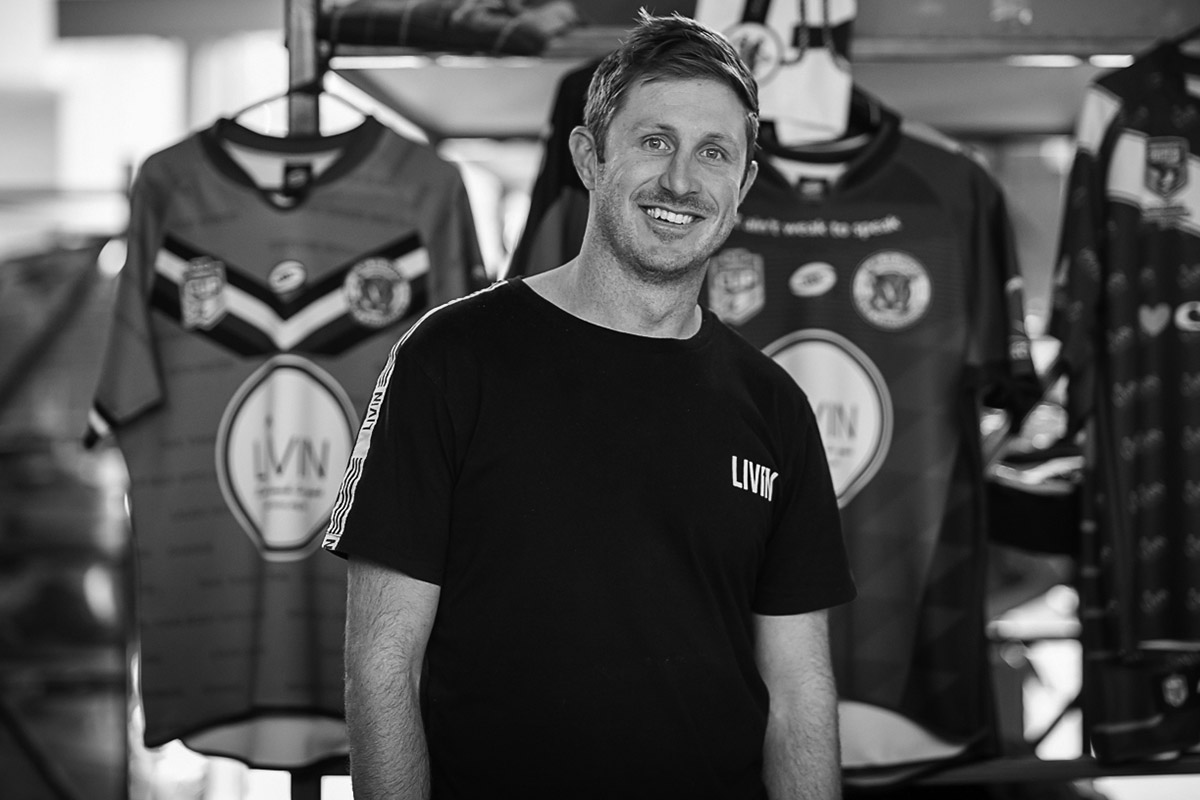 This creates a dialogue and even more awareness for LIVIN and their mission of breaking down the stigma of mental illness.
LIVIN's third and final pillar is community-based events and fundraisers that, according to Casey, "could look like anything". "Those are our three pillars, that's how we get our message of 'it ain't weak to speak' across in to the community."
To Lithgow's Curtis Young, the third pillar looked like a gruelling 14-kilometre run wearing a weight vest.
The LIVIN mantra of 'it ain't weak to speak' is one that has really resonated with Curtis. He is passionate about encouraging those around him to speak up if they are doing it tough mentally.
While preparing to enter his seventh City2Surf – an annual road running event held in Sydney – Curtis, 22, noticed that this year, things felt different.
"This year, I don't know what the go really was with me. My training just didn't seem to be there, I wasn't enjoying my training. So I was, kind of in a weird way, almost looking for something to change everything up," explains Curtis.
A conversation with a mate who was already involved with LIVIN ensued and from that point, something clicked for Curtis and he knew that running in support of LIVIN is what he wanted to do, having had his own dark days.
While the demanding course would be a challenge for most, Curtis wanted to up the stakes, and decided to do the run wearing a nine-kilo weight vest, to raise both funds and awareness for LIVIN by actually turning awareness into action.
The vest, he explains, was symbolic of the hidden burden that 'carrying' a mental illness can have.
"The idea of it was to encapsulate the whole idea of actually carrying a burden," he explains. "Obviously the difference for me was at the end of the race I could take off my burden, but I also wanted to show a lot of people that it can reflect… a lot of people are walking around with something that we don't even see."
"The amount of support I got leading up to the actual run, and the amount of support in the run itself was unreal. For people to be there, I had a support network I never thought I actually had, and to then finish the race, to be able to take that (weight) off; it was almost a metaphor for people dealing with whatever is actually happening inside of them."
"They do have that support network and if they do reach out for that support network, they do get that option to take off whatever is resting on their shoulders," he said.
Curtis was also grateful for the support he received from the LIVIN team throughout his training for the City2Surf. He finished the race with at time of 58:22; not too far off his personal best of 56:26. Setting a target of $2000, Curtis was pleasantly surprised go over and above this fundraising goal.
Stories like Curtis's are one of Casey's favourite parts of seeing the organisation he founded flourish and grow, and it is something that he always finds humbling.
"It's a beautiful part of the job, the people we meet," he says.
LIVIN has done a lot in the mental health space in a few short years; however, never one to rest on his laurels, Casey believes there is still much to be done.
"We have started something that we should be proud of, although we don't often have time to sit and reflect on what we've done. It's always very interesting to see where we've gone and where we've been."
"It's very satisfying in a way, but there is just so much more work to do, so satisfying might not be the right word."
Casey Lyons
Why has LIVIN resonated so well with people in what is quickly becoming quite a crowded space?
"People just relate to us and trust us because… we're vulnerable," says Casey. There is an innate strength in that vulnerability.
"When you're vulnerable, you give yourself the chance to heal, and have people open up to you, and give them the chance to help themselves."