Recipe | zucchini, carrot and feta slice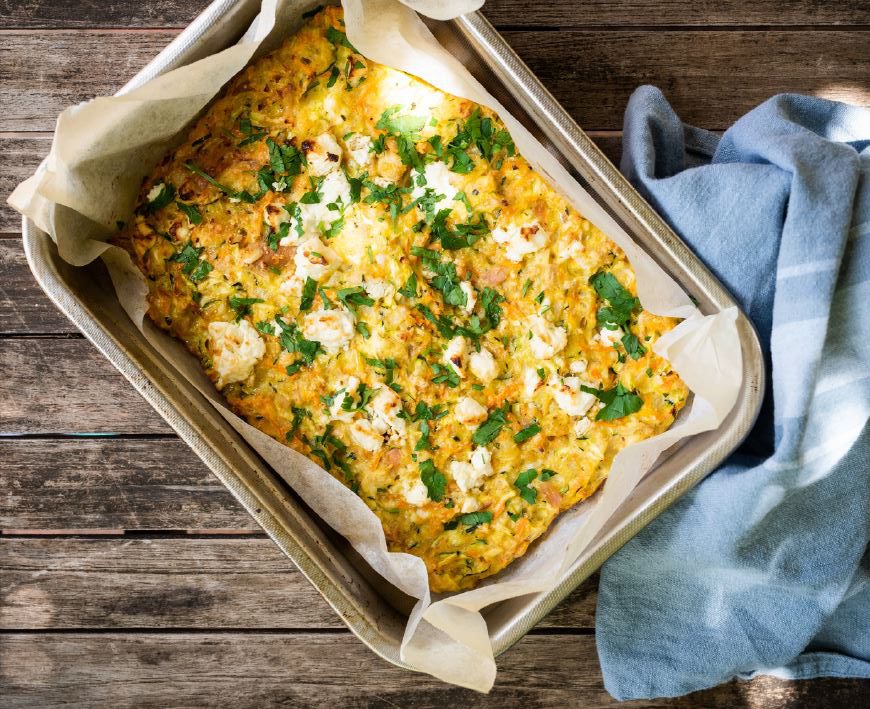 This delicious zucchini, carrot and feta slice makes a great light dinner option and is so easy to make. Pair it with your favourite green salad for a healthy, satisfying meal. A terrific spring or summer dish, including a family lunch option.
Prep time: 25 minutes
Cooking time: 35 minutes
Number of serves: Four people
Ingredients
2 medium zucchini, grated
3 medium carrots, grated
2 garlic cloves, crushed
3 tablespoon EVOO (extra virgin olive oil)
100g self-raising wholemeal flour
80g breast chicken or other leftover meat of your choice
60g Danish feta
3 eggs, lightly beaten
1 brown onion, finely chopped
1/3 cup skim milk
Pepper to taste 
Extra virgin olive oil spray
Herbs of your choice (such as parsley, sage, basil, thyme, flat-leaf parsley, or mint), coarsely chopped




Method
Preheat the oven to 160 degrees (fan-forced)
Lightly spray a square baking tray with extra virgin olive oil
Grate the zucchini and carrots
Dice the onion
Crush or finely dice the garlic
Combine the carrot, zucchini, diced onion, garlic, feta cheese and self-raising wholemeal flour
Add the breast chicken or any leftover meat you would like to use. Be sure to chop into small pieces first.
Season the mixture with pepper as desired
Add in the chopped herbs of your choice
Add in the milk, eggs and oil
Mix all the ingredients well
Spread the mixture evenly with a spoon or knife into the baking tray
Place in the oven and bake for 30-35 mins or until golden brown
Cool slightly before serving
Serve this healthy slice with a green salad. This dish is also a great family lunch, as well as a picnic dish.
Nutrition Information (per serve)
| | |
| --- | --- |
| Energy | 1632 kJ (390 calories) |
| Protein | 18g |
| Total Fat | 22g |
| Carbohydrates | 25g |
| Saturated Fat | 5g |
| Sugars | 9g |
| Dietary Fibre | 9g |
| Sodium | 462mg |
Recipe courtesy of Anika Rouf, Accredited Practising Dietitian from the Dietitians Association of Australia (DAA) Smart Eating Recipes. For more healthy eating ideas, please visit the Smart Eating for a Healthier You Section on the DAA website.