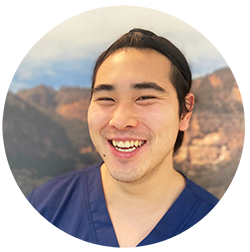 Availability Tuesday - Friday
Dr Kevin Jin was born and raised in Sydney but moved to Perth to study dentistry. In 2022 he graduated from the University of Western Australia with a Doctor of Dental Medicine. After his graduation, he returned to Sydney to begin his initial role as a dentist with Westfund.
Dr Jin is enjoying the supportive and friendly staff at Westfund and is surrounded by a great team of experienced dentists. He is very keen to steadily build his skills and experience to be able to provide the best care that he can for all who visit Westfund Dental Care in Lithgow.
Qualifications:
Bachelor of Medical Science, University of Sydney, 2018
Doctor of Dental Medicine, University of Western Australia, 2022
More about Dr Kevin Jin
Outside of the surgery, Dr Jin enjoys PC gaming, playing volleyball and the guitar. He also has an interest in producing custom mechanical keyboards. Dr Kevin Jin is also the younger brother of another Westfund dentist, Dr Xiao Jin.