Chocolate raspberry better-for-you brownie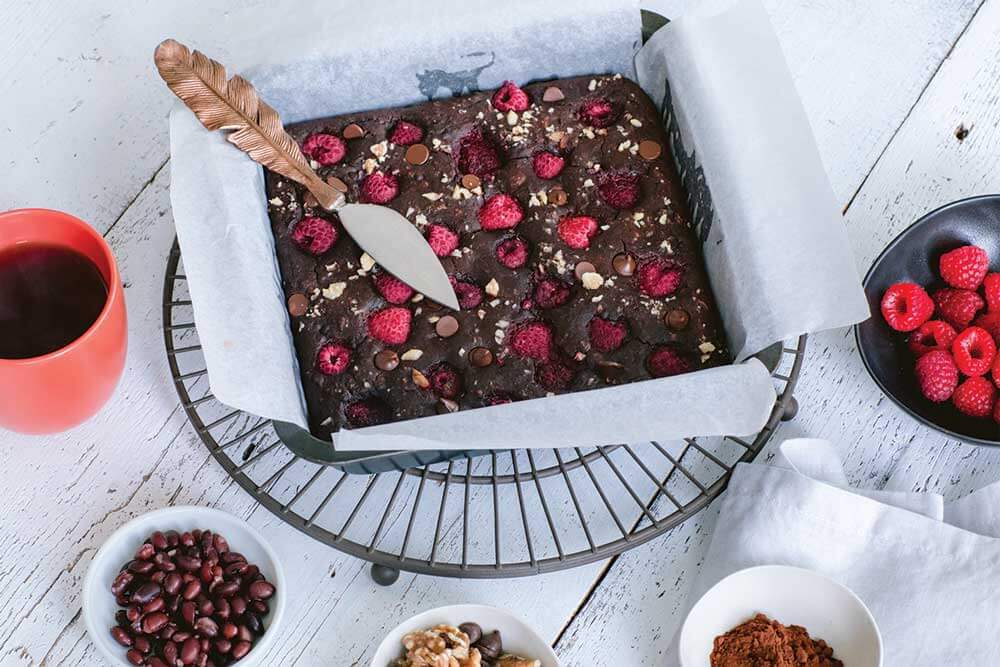 Looking for a healthier cheeky snack? This recipe is perfect for when you need to satisfy that craving for something sweet. 
Makes 16 pieces
Ingredients
1 x 400g can of blackbeans, rinsed and drained well
¼ cup almond meal
1 tsp baking powder
¼ cup cocoa powder
Pinch of salt
¼ cup maple syrup
¼ cup olive oil
2 tbsp brown sugar
1 egg
1 tsp vanilla essence
¼ cup dark choc chips
¼ cup crushed walnuts
½ cup frozen raspberries
Method
Heat oven to 180° Line a 20 x 20cm slice tin with baking paper – if you scrunch up the piece of baking paper first, it is easier to lay down into the tin.
In a food processor, add the black beans, almond meal, baking powder, cocoa, salt, maple syrup, olive oil, sugar, egg and vanilla and process until mixed together – the mixture should be fairly smooth.
Stir through the choc chips and walnuts, then pour the mixture into the prepared baking tin.
Scatter the raspberries over the top and bake for 20-22 minutes or until the top has a crust but is still soft to touch. Allow to cool, and for even better cutting and consistency, place in the fridge to set before cutting into 16 pieces.
Nutrition Information (per serve)
Energy

585Kj

140kcal

Protein

3g

Total Fat

-        Saturated

-        Unsaturated

8g

1.2g

5.6g

Carbohydrates

-        Sugars

10.6g

4.8g

Fibre

2.3g

Sodium

56.3mg