Mediterranean tuna and pulse pasta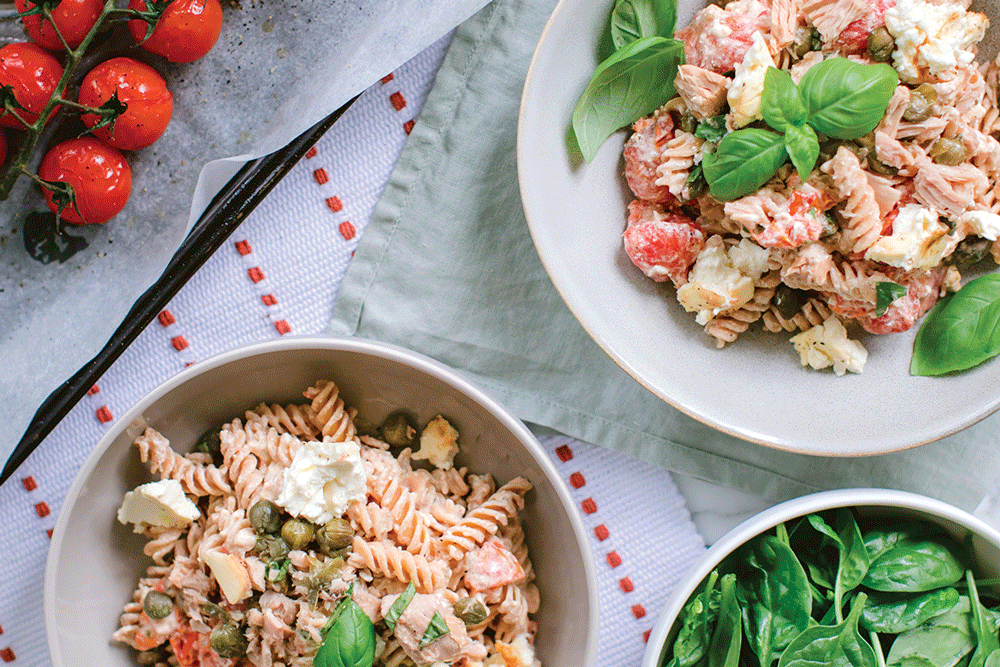 Nourish your body with this healthy Italian-style pasta. It's sure to be your families new favourite go-to meal! 
Serves 2
Ingredients
250g cherry tomatoes
½ block (125g) creamed cheese
1 tbsp extra virgin olive oil
½ tsp dried oregano
½ packet (125g) pulse pasta (chickpea pasta or red lentil pasta)
95g tin of good quality tuna in oil, drained and broken up roughly with a fork
1 tbsp capers
½ tsp crushed garlic
¼ cup roughly torn or chopped fresh basil leaves
1 big handful of fresh baby spinach (or any green leafy veg you can get your hands on), to serve
Sea salt
Freshly ground pepper

Method
Heat oven to 200°
In a small baking tray, add cherry tomatoes and the creamed cheese in the middle. Drizzle with 1 tbsp olive oil, sprinkle with oregano and season with salt and pepper. Bake for 30-40 minutes or until the creamed cheese is starting to go golden around the edges and the tomatoes have burst their skin.
10 minutes before the tomatoes are ready, cook the pasta according to the packet instructions, then drain, saving a small cup of the cooking liquid.
When the tomatoes are cooked, use a fork to break up the creamed cheese and stir it through the tomatoes – it should make a creamy sauce. Then add the cooked pasta, tuna, capers, basil and crushed garlic and mix together. Add little splashes of cooking liquid until you have a nice, loose sauce.
Serve between two bowls and top with baby spinach and a little extra fresh basil.
Nutrition Information (per serve)
Energy

2,617Kj

626kcal

Protein

29.1g

Total Fat

-        Saturated

-        Unsaturated

31.5g

17.1g

6.2g

Carbohydrates

-        Sugars

45.6g

9.7g

Fibre

7.5g

Sodium

443mg