Quick blender oat and banana hotcakes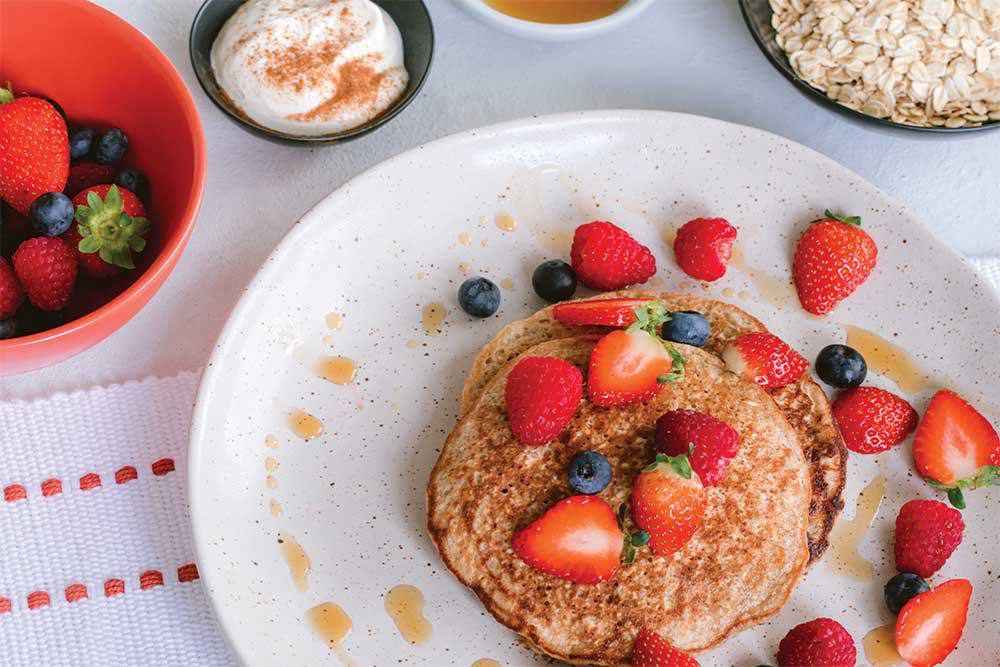 Start off your morning with these delicious and nutritious breakfast hotcakes. 
Serves 2
Ingredients
1 cup rolled oats
1 banana
¾ cup milk of your choice (*recipe nutrition is based on full cream cow's milk)
1 egg
½ tsp baking powder
½ tsp ground cinnamon
To serve
1 tbsp Maple syrup
½ cup Greek yoghurt
1 cup fresh berries
To cook
1 tsp extra virgin olive oil
Method
Place the oats into a blender or food processor and process until it forms a fine powder, around 30 seconds.
Add the remaining ingredients to the blender and process again until mixed well
Heat a small non-stick fry pan to medium heat. Add 1 tsp olive oil and use a piece of paper towel to smear the oil around the pan. Add a quarter of the hotcake mixture to the middle of the pan and cook until you can see bubbles forming on top and the edges begin to dry, then flip and cook again on the other side. Repeat this until you have two hotcakes per person.
Top with a dollop of Greek yoghurt, berries and maple syrup.
Nutrition Information (per serve)
Energy

2,086Kj

499kcal

Protein

14.7g

Total Fat

-        Saturated

-        Unsaturated

19.3

7.8g

8.8g

Carbohydrates

-        Sugars

63.9g

27.8g

Fibre

7g

Sodium

45mg